Keep Up Your Style

With Quality Grooming Products That Are Good For You
Scruff Beard, Hipster Moustache or Classic Clean Shave

Whatever You Choose, Do It Right
Time To Get Your Head In The Game

And Stop Using Your Girl-Friend's Shampoo
Battle Blackheads, Wrinkles or Oil?

We've Got The Products To Suit Your Skin Type
Keep Up Your Style
With Quality Grooming Products That Are Good For You
Scruff Beard, Hipster Moustache or Classic Clean Shave
Whatever You Choose, Do It Right
Time To Get Your Head In The Game
And Stop Using Your Girl-Friend's Shampoo
Battle Blackheads, Wrinkles or Oil?
We've Got The Products To Suit Your Skin Type
Mens Hair Products for Grooming
Products Designed Specifically for Men
One Man was built out of need. The need for quality men's grooming products without the hassle. 
No time-wasting shopping missions to numerious shops, no confusing jargon - just quality products and advice in an online shopping environment, so you don't even need to interrupt your busy life.
Your skin and hair need different things, so it's time to man-up and stop sneaking your girlfriend's products.
We've collated the best in men's skin care, shave and hair care products from across the globe – products designed for real results with minimum fuss.
We've also got the tools you need to deal with the grooming details – beard trimmers, nose and ear hair clippers, nail clippers, shaving tools, tweezers and more.
What Our Customers Say About Us
Great stuff at a great price with fantastic customer service. I'll be back again. Thank you.

Jason B
Both my wife and I LOVE Baxter's deodorant! That's right - she's using it too. It smells nice and works the whole day, which is not usual for natural deodorants. Great quality product and service. Thanks One Man!

Tony James
Great products and service

Faultless service and great products. Can't go wrong with shopping at One Man

Brent C
Why Shop from OneMan?
🧴One stop-shop for ALL your grooming needs.
👌🏼 High quality products which are good for your skin and body.
 🚚 Fast shipping & excellent service. FREE shipping for orders $60 or more.
📲 Online Advice if you're not sure of suitable product.
🇳🇿 You're supporting a small New Zealand business.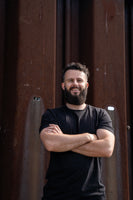 Our Story
OneMan was built out of need. The need for quality men's grooming products, available at your fingertips.
Supermarket products not hitting the mark?  Your barber has run out of your favourite product? Overseas orders getting hit with large minimum for the free shipping, long waits and then… getting hit with the customers fee?!?
We aim to range a variety of premium brands, sourced from all over the world that you will not find at your local supermarket. One Man collections covers men's contemporary Face, Hair & Body products. Showcasing established brands like Layrite, Fatboy, Proraso, and Lockhart's, as well as a range of emerging New Zealand talent.
An important pillar of One Man is to ensure ease and comfortability while shopping and that's why One Man offer fast New Zealand delivery and returns/ exchanges*
Let us know what you think or hit us with any questions on info@oneman.co.nz
Thanks for checking us out!
OneMan
JOIN US ON INSTAGRAM @onemannz